Northgate Ford History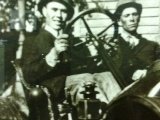 Ford Motor Company has always been part of the Wood Family. Starting as far back as Henry Ford's Model A and T's, Joseph Clarence Wood ("Clarence") began selling trucks in 1922 for the Rivard Brothers Ford in Warren, Michigan. He worked for Jake and Tony Rivard until they sold their business. Clarence continued his sales career at Clem Rinke Ford until his death at the age of 67. His son Bernard Clarence Wood "followed in his father's footsteps". After serving in the Navy, "Barney" began working on Nine Mile and Mack for Roy O'Brien Ford selling cars and trucks. His longest sales career was spent at Dawson Ford where he worked for Ross Dawson selling new and used cars, Used Car Appraiser and finally Used Car Manager. Barney continued his love for the automobile business as a "Dealership Trouble Shooter" for Chrysler and General Motors. His job entailed assisting Dealers that were losing money in their Dealership, helping them to "turn-it-around".
In 1963, Barney started working at Northland Chrysler as their Used Car Manager for 8 ½ years. At that time, in January of 1971, he was presented with the opportunity to "turn-around" Northgate Ford Lincoln Mercury in Port Huron; this Dealership had eight dealers who failed. After four months of daily commuting from Warren, Michigan , Ford Motor Company made Barney the Dealer at Northgate Ford Lincoln Mercury. Two years later after commuting to and from their Warren home to work, he moved to Port Huron permanently. His two sons, Jeffrey ,17 and Thomas 14 yrs old worked for their father, without salary for the first few months because their wasn't enough money to pay them. Jeffrey pursued his career in Education and became a teacher for the Lanse Cruese district, and principal in Fraser where he retired. Thomas continued working in the family business. His automotive experience began at an early age from washing cars in the wash bay to his current position, Dealer/General Manager in 1998 when his father passed away. Tom learned how to wash cars, run that department, work as a service writer, work in the Parts Dept and the business office, sell new and used vehicles, and manage the New Car Department. He received his BBA from Northwood University in Midland in 78.
His three sons, Tom, Joseph and Michael continued helping out in the family business. They also started working at a young age washing cars, helping in service, and doing office work. His oldest son Tom, a lawyer, is currently working on his degree to become a professor. Joseph, who has his Masters in Business Administration is working for his father as the Finance /Business Manager. Michael, also a college graduate, works in the dealership as a Technician and Sync Specialist. Tom's wife, Grace, a Massachusetts native and recently retired Port Huron teacher continues the family tradition in the dealership as the CRM/Internet Director. Northgate Ford Lincoln and family go hand and hand.  Our family has always believed that customers feel like family.  Celebrating almost 50 years (established  in April 1977) in business, Northgate continues to serve customers in Port Huron, Fort Gratiot, Lakeport, Kimball, Lexington, Armada, Marysville, Clyde Township, Utica, Yale, Brockway, Casco, Columbus, Grosse Pointe, Rochester, Detroit,New Haven, Commerce Township, West Bloomfield, Birmingham, Lake Orion, Royal Oak, Richmond, Croswell, Port Sanilac, Carsonville, Harbor Beach, Harrison, Shelby, Sterling Heights, Lapeer, Emmett, Melvin, Almont, Utica, Warren, Roseville, Fraser, Clinton, Mt.Clemens, Memphis, and Imlay City. We also service, and sell auto parts and pre-owned (used) vehicles to our Canadian neighbors in Sarnia and Lambton County.
Our family owned reputation continues to provide personal service and great prices on Ford and Lincoln vehicles. We offer Ford rebates and incentives on new Ecosport, Escape, Edge, Explorer, Fusion and Fusion Hybrid Fusion Plug-in Hybrid , Flex, Focus, Mustang and Mustang Shelby, Ranger, Super Duty F-250, and F-150 and F-150 Raptor, Taurus, Transit and Transit Connect Commercial, Expedition, and the future Fusion Plug-in Hybrid. Our luxury vehicles include Lincoln's Navigator,Aviator,Nautilus, MKC,Continental, MKZ and the soon to be in our showrooms, the Corsair.  Our newly remodeled dealership, designed by Lincoln Motor Company is luxurious and comfortable. Our customers enjoy a cup of  latte, cappuccino, espresso, or just a freshly brewed cup of coffee. We also offer tea, hot chocolate, bottled water and juice and homemade desserts made by the owner.  If you need to work, our business center has Wi-Fi and a printer for your convenience. Of course you might just relax and read or just enjoy your favorite TV on our flatscreen TV.
Northgate Ford Lincoln has been involved in the community for years sponsoring Breast Cancer Awareness at Port Huron Hospital, as well as many other community Organizations.
Stop by and visit our remodeled dealership. You welcome the opportunity for you to EXPERIENCE THE DIFFERENCE at Northgate.